Product Introduction
——
PMS-TM300 is a new type of digital measuring microscope.
Using LED lighting, according to the choice of lens barrel, lighting device, lifting mechanism, objective lens and focusing mechanism, there are many models for users to choose.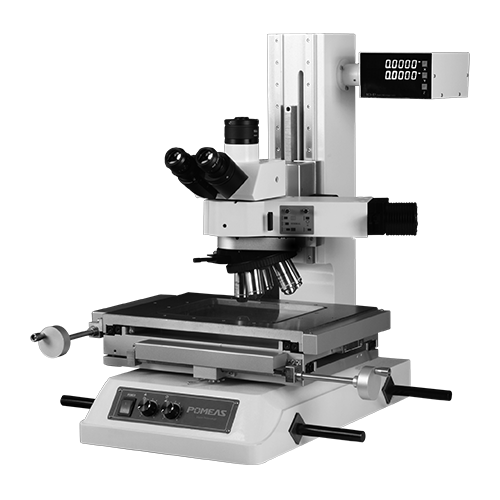 Product Advantage
——
1. Travel: 200 * 300 * 150 mm;
2. 5X, 10X, 20X, 50X objective lenses;
3. The measuring accuracy of the instrument is 2+L/200 and the grating accuracy is 0.1um.
4. Live viewing, such as bright/dark/DIC, has clear image and wide field of view.
5. Imported precision screw drive, more accurate positioning;
6. Rapid moving worktable of carrier station which is especially advantageous for large-scale measurement;
7. Z-axis adopts large roughly and fine-tuning handwheel, which can realize accurate focus of workpiece and 2um fine-tuning.
8. The X-axis and Y-axis adopt built-in zero-adjusting switch.
9. The Z-axis adopts IKO linear guide rail, which ensures the high accuracy of the Z-axis.
Application Fields
——
Mainly used in the production workshop, measurement and testing room of product parts size detection.
High Precision Tool Microscope Parameter(PMS-TM300)
——