Product Introduction
——
Aurora series of machine vision lasers, with its high performance, high reliability, widely used in a variety of 2D / 3D visual applications and detection systems. With stripe fine, uniform power distribution, edge sharpness and other characteristics, to maximize the visual application of imaging resolution and accuracy. Can provide different projection patterns, different wavelengths, different power of a range of products to meet customer needs. Easy integration, high reliability structure, can be easily combined with a variety of visual systems to achieve a variety of machine vision applications.
Laser structure

(1) M12 connector socket (2) M20 nut (3) LED laser status indicator
(4) focus fine-tuning ring (5) laser output head
Products Advantage
——
1. Unique optical and coating technology, to achieve a fine projection pattern
2. Spectral range of 405nm-980nm
3. Brightness uniformity of up to 95%
4. Laser high-speed modulation up to 100 kHz
5. Laser power continuously adjustable
6. Precision laser focus adjustment mechanism, adjustable working distance
7. 6 status indicator, a comprehensive monitoring of laser status
8. 5V to 30V wide voltage input, with the wrong protection
9. Control signal 5V to 30V shock-resistant function
10. Dual temperature zone temperature warning, temperature self-protection function
11. IP67 protection class, dustproof, waterproof, all-metal housing,
12. Suitable for a variety of harsh environments
13. M20 thread fixed, stable and reliable installation
Actual Image
——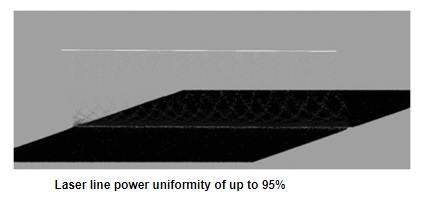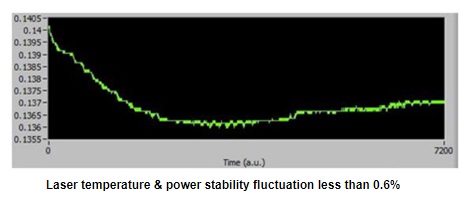 Application Fields
——
Widely used in a variety of 2D / 3D visual applications and detection systems, machine vision applications.
Product Size Display
——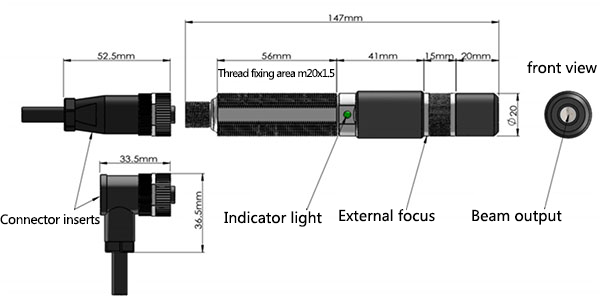 Machine vision lasers Parameter Table
——