In industrial inspection applications, measurements need to be taken from the standard front side of the object, but there are many workpieces that are irregularly shaped and cannot be placed accurately, and the spacing is constantly changing during measurements, so if you want to accurately obtain product images, you need to use telecentric industrial lenses.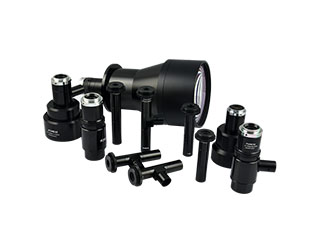 The magnification of telecentric lens is close to constant, which can eliminate parallax, and the change of object distance will not affect the lens magnification, so the product image is accurate and stable.
The parameter indicators of telecentric lenses include depth of field, magnification, working distance, resolution, distortion rate, telecentricity, and so on. Telecentricity describes the angle of the main light ray off from the optical axis, the smaller the angle the better the telecentricity, the more accurate the imaging. An ideal telecentric lens has no trapezoidal distortion and has a telecentricity of 0°.
Note: It is not true that telecentric lenses have greater depth of field than normal lenses. In fact, a higher telecentricity does not mean a greater depth of field, which is only dependent on the F-number and resolution. With a telecentric lens, the image is blurred as the object moves away from the optimal focal length, but it is a symmetrical blur.
As long as the features of the object are within the working distance of the telecentric lens, the magnification of the image remains constant; in other words, features closer to the lens are not larger than those imaged farther away. Telecentric lenses with telecentric light source shooting, full field of view without parallax, shooting picture is perfect.