In the semiconductor industry, LCM, or LCD display module, refers to components that assemble liquid crystal display devices, connectors, control and drive peripheral circuits, PCB circuit boards, and structural components. With the development of the industry, the requirements for continuous innovation in technology are becoming more and more strict, and the requirements for observation and detection of blasting particles are also getting higher and higher. Blasting particle detection is mainly for the blasting inspection of transparent mobile phone screen/conductive glass conductive particle indentation and other particles.
Testing requirements:
Detect the compressed state of the blasting particles, whether the pressure is too heavy, too light, too little, etc.
Detection scheme:
1. The lens uses Pumis high-magnification continuous zoom lens;
2. The camera uses the Pumis 10 million pixel industrial camera;
3. With the microscope imaging analysis system.
Detecting renderings: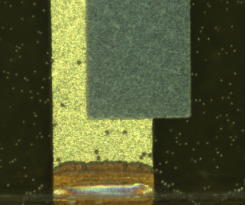 Program advantages:
1. The Pumis continuous zoom lens has high-resolution and high-contrast imaging, which can obtain a more uniform illumination effect and good image contrast;
2. High frame rate shooting and transmission of Purmis industrial cameras, the image is clear and no smear;
3. With the microscopic imaging analysis system, the particle points can be clearly seen, and the details are obvious.