With the advent of the 5G era, video has become the main information transmission channel. In order to enable TVs, computers, displays, projectors and other video equipment to output higher-definition picture quality, high-definition data transmission lines are essential. At present, common video interfaces include DP, DVI, HDMI, VGA, etc.
Among them, the HDMI interface is a high-definition video interface, which is relatively common in notebooks and TVs. HDMI is a dedicated digital interface suitable for image transmission, which can transmit uncompressed audio and video signals at the same time. In order to ensure the transmission quality, HDMI needs to undergo a number of sophisticated appearance inspections during the production and manufacturing process, including interface defect detection, size measurement, etc.
With the rapid development of high-precision products, high-precision production processes are required, and at the same time, productivity and yield must be improved. Traditional manual positioning cannot meet the needs of high-precision and high-efficiency products. The introduction of machine vision inspection systems , just to meet this need.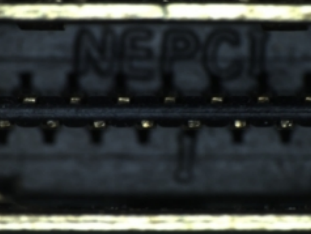 HDMI defect detection, including identifying whether the PIN pin is skewed, offset, and whether there are variegated colors, black spots, scratches and other stains on the surface. The detection system consists of an optical lens, an industrial camera, a light source, an image processing system, etc. The optical lens can be a Purmis telecentric industrial lens, which has the characteristics of low distortion and high-definition imaging. identified defects.
There are various types of Pomeas telecentric lenses, which can be applied to imagers, visual alignment systems, defect detection systems, etc. If necessary, you can contact us to provide you with one-stop selection solutions and sample borrowing services.