The current industrialization has entered the era of intelligence. Throughout the sheet metal industry, most of the manufacturing links of enterprises have been digitized, which can ensure that products can be manufactured quickly and accurately, and some enterprises have also entered the stage of partial automated production.
However, the size detection of sheet metal parts is still the bottleneck of the sheet metal manufacturing industry. Some enterprises still use traditional inspection methods, manually use calipers to inspect, and use traditional video cameras to complete all size inspections of sheet metal parts. Due to the characteristics of sheet metal parts with many varieties and small size, the traditional detection method can only be measured one by one, and the detection efficiency is low, and some parts have irregular shapes, which are difficult to detect and cannot meet the accuracy requirements.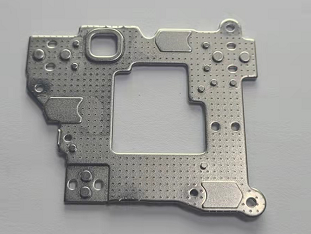 However, as the demand for precision manufacturing continues to expand, the quality control of sheet metal parts has become a headache for major suppliers. If the size of the parts is unqualified, it will have a huge impact on the subsequent assembly process.
In response to these problems, Pomeas launched the IMAGE3 series image measuring instrument, which is an intelligent one-button size measurement device. It is equipped with a self-developed measurement software solution. Through a high-precision bi-telecentric optical lens, it can transmit the outline image of sheet metal parts to Digital processing is done on the Pomeas high-resolution industrial camera, and then the self-developed measurement software is used for precise measurement, data judgment and report output. It effectively solves the technical difficulties of customers in the process of dimension measurement of sheet metal parts. The Pomeas one-button image measuring instrument can complete the measurement of dozens or hundreds of dimensions in just a few seconds, effectively improving the inspection efficiency and helping customers increase production. .
Pomeas one-button image measuring instrument is suitable for size detection such as distance, radius, angle, radian, etc. It is easy to operate and has high measurement accuracy. Both software and hardware are independently developed, and after-sales are guaranteed.