Zoom lens is an industrial lens with adjustable magnification. According to different adjustment methods, it can be divided into manual zoom lens and electric zoom lens. Electric zoom lens refers to a new type of lens that uses an electric motor, integrated control card, and control software to adjust the magnification of the lens, and can achieve parfocality by observing the real-time computer screen to obtain the clearest picture, which can be applied to machine vision. schemes, such as screw hole visual inspection.
Application background:
Screws are commonly used fasteners in life and industry. 80% of structural connections are completed by screws. The qualification of screws and screw holes directly affects the assembly performance and safety of equipment.
In the process of screw hole processing, there are often abnormal situations. For example, some threads may be less than the number of threads of the minimum thread, or the thread tap used for processing is damaged, so the shape of the processed thread is poor, or even not at all. It is processed into threads, and sometimes the threaded taps are broken in the processing holes, resulting in considerable production problems and cost losses.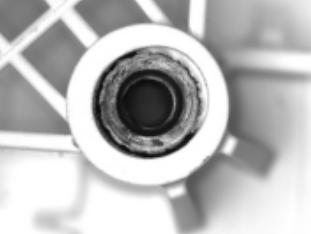 ​
The early detection of threaded holes was mainly manual operation, that is, the operator screwed bolts or gauges into the holes to complete the detection, but this method is labor-intensive, costly, and has large measurement errors. With the development of the manufacturing industry, it has been It cannot meet the requirements of manufacturers for screw hole accuracy and efficiency.
Detection scheme:
Using the visual inspection equipment equipped with the Pomeas 4K motorized zoom lens, it has the characteristics of high resolution and large target surface. By magnifying the internal image of the screw hole, the parameters of the screw hole can be directly detected, and the defective products can be quickly and efficiently identified.
Pomeas motorized zoom lens can also be used for FPC defect detection, character recognition, syringe needle tip detection, wafer detection, etc. If necessary, you can contact us, we will respond as soon as possible and provide you with detection solutions.