Pomeas one-button image measuring instrument is a measuring instrument with high function and cost performance of similar products. It can be compatible with the switching of large and small fields of view in the same machine: it can handle small products and accurately grasp the edge, and can also meet the needs of large-size products inspection.
The measurement software used by the Pomeas image measuring instrument is a-Vision visual measurement software independently developed by Pomeas. The software interface is simple and clear, and the operation is simple and convenient. Even if the operator is not familiar with the use of the instrument, he can be Proficient operation allows customers to truly experience the function of flash testing.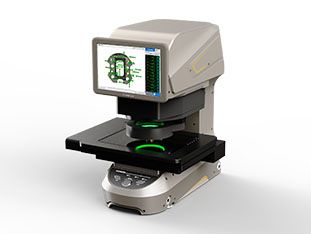 Product features of the one-button measuring instrument:
1. There is no need to locate the workpiece, no fixture is required, the product can be placed at will, the system has a fast measurement speed, and can automatically identify and measure multiple workpieces at the same time, and output the results in seconds.
2. Using Pomeas independent design and production of double telecentric lens with two 12 million cameras and automatic lifting of multi-angle surface light, as well as independent and powerful edge algorithm, it is easy to achieve surface light edge finding and high-precision measurement of surface size.
3. Desktop structure, small size, easy to carry, suitable for rapid measurement of production line edge dimensions. After placing, it can be measured by only pressing one button, and it can also be matched with the customer IO signal to achieve automatic measurement, and the report can also be automatically uploaded to the customer data management system.
4. Using professional image measurement software with powerful functions and intuitive operation, coupled with the testing and adjustment of professional software engineers, the software operation interface is simple and easy to understand, and the measurement program writing and report parameter setting can be easily performed. Anyone can get consistent test results.
Pomeas one-button image measuring instrument can replace the old-fashioned imager to improve the measurement accuracy and work efficiency. It is widely used in electronics, mobile phones, hardware, plastic, glass and other industries, which can not only ensure the quality of products, but also improve the efficiency of testing.