In the machine vision system, there is a crucial component, that is, the industrial lens. The function of the industrial lens is mainly optical imaging, which plays a very important role in the quality of the imaging. There are many types of common industrial lenses according to different classification methods.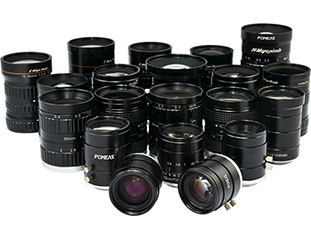 According to different industrial lens sub-interfaces, it can be divided into:
1. C-mount industrial lens: It is a widely used industrial lens in machine vision systems, with the advantages of light weight, small size, low price and many varieties.
2. CS-mount industrial lens: The threaded connection of CS-mount is the same as C-mount, which is a common international standard interface. Industrial cameras with CS-mount can be connected to C-mount and CS-mount lenses, but only use C-mount A 5mm adapter needs to be added to the lens; C-mount industrial cameras cannot use CS-mount lenses.
3. F-mount lens: It is the interface standard of many lens brands. Usually, when the target surface of an industrial camera is larger than 1 inch, an F-mount lens is required.
According to the different focal lengths of industrial lenses, they can be divided into:
1. Fixed focus industrial lens: fixed focal length, generally adjustable aperture, with focus fine-tuning, only a small working distance, and the field of view varies with distance.
2. Zoom industrial lens: The focal length can be continuously changed, and the size is larger than that of a fixed-focus lens, which is suitable for object changes, and the pixel quality is not as good as a fixed-focus lens.
According to whether the magnification is variable, it can be divided into:
1. Fixed magnification lens: fixed magnification, fixed working distance, no aperture, no focus adjustment, low deformation rate, can be used with coaxial light source.
2. Zoom industrial lens: The magnification can be adjusted steplessly without changing the working distance. When the magnification is changed, it still presents excellent image quality and has a complex structure.
Pomeas is an industrial lens company with a complete industrial chain in China. The product quality and grade are already at the leading level in the industry. For more information, please visit the official website www.pomeas.cn.