The one-button measuring instrument is a new type of measuring instrument derived from the two-dimensional measuring instrument. Its core advantage lies in the measurement of large quantities of small precision parts.
Compared with ordinary measuring instruments, the one-button measuring instrument has a more sensitive response, and can complete the measurement tasks of multiple workpieces in a short time, effectively improving the measurement efficiency. High precision, compared with traditional instruments, it can well avoid the generation of errors, so more accurate measurement results can be obtained in the process of measuring workpieces. The structure of the one-button measuring instrument is simple, easy to use and operate, and the performance of the equipment is also very stable and reliable.
There are many brands of one-button measuring instruments on the market. Which brand of one-button measuring instruments is better?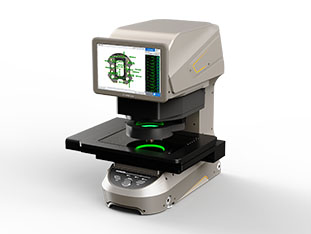 POMEAS IMAGE3 series one-button measuring instrument adopts self-developed high-end telecentric low-distortion lens and high frame rate industrial camera, combined with high-precision image analysis algorithm, and incorporates the principle of one-button flash measurement. Just press the start button to start the measurement, automatically determine whether it meets the requirements according to the tolerance parameters, and export the report, truly realizing one-button fast and accurate measurement. The Pomeas one-button measuring instrument is the premium choice for precise dimensional measurement.
Pomeas is a machine vision and industrial automation core product supplier that integrates optics, control, algorithms and other technologies with vision technology as the core, focusing on the fields of measurement systems, vision systems, and optical systems, with customized solutions Help customers improve the competitiveness of equipment. It has unique design and production advantages in the manufacture of zoom lenses, telecentric lenses, fixed-magnification industrial lenses, industrial cameras, visual light sources, machine vision systems, and one-button measuring instruments.