With the development of industrial manufacturing technology, product inspection is facing new challenges. How to complete the inspection simply and efficiently and ensure the reliability of data has become an urgent need for many manufacturers. Pumis IMAGE3 series image measuring instrument is a kind of fast dimension measuring equipment. It only needs to put the measured part on the stage and press the measurement button lightly to measure the workpiece size and shape and position tolerance.​​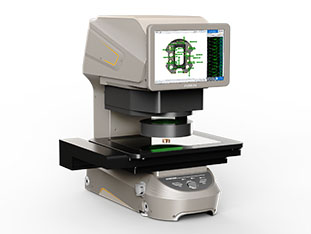 The one-button image measuring instrument is composed of a large-field and deep-heart magnification lens, an upper and lower light source, a high-pixel CCD camera, an image analysis system, and a fixed stage.
The one-button measuring instrument uses a telecentric lens combined with a high-resolution industrial camera to adjust the product image to an appropriate size after taking a photo, and then use the measuring software with powerful computing power to quickly capture the product outline according to pre-programmed instructions. Finally, the product size is calculated after comparing with the tiny pixel points on the photograph, and the evaluation of the size tolerance is completed at the same time.
Advantages of one-button image measuring instruments
1. The measurement speed is extremely fast, 100 parts can be measured in 1 second, and the efficiency is greatly improved compared with the traditional two-dimensional imager.
2. The software operation interface is simple and easy to understand, and the repeated measurement accuracy is high, which can solve the problem of poor consistency of repeated measurement data of the same product.
3. The instrument is simple in structure, small in size, and easy to carry, suitable for rapid measurement of the size of the production line.
4. Double telecentric lens with two 12 million cameras and automatic lifting of multi-angle surface light, as well as independent and powerful edge algorithm, easy to achieve surface light edge finding, and high-precision measurement of surface size.
Pomeas one-button measuring instrument can be used for mobile phones, glass, machinery, electronics, molds, injection molding, hardware, rubber, precision stamping, connectors, connector terminals, printed circuit boards, medical equipment, clocks, cutting tools and other conventional size products. Fast, batch measurements.