Telecentric lens is an important branch of industrial lens. It is mainly designed to correct the parallax of ordinary lens. It is a very important application when the measured objects are not on the same plane.
The selection of the telecentric lens is mainly based on several parameters, including resolution, depth of field, parallax, magnification, etc. In some applications, whether the magnification of the telecentric lens can be adjusted or not has become a selection reference standard.
The magnification refers to the size of the shooting range that can be changed through the adjustment of the lens, and is the ratio of the image size to the size of the object. The magnification of the telecentric lens is constant, the size of the object-side field of view and the size of the imaging circle are fixed. Since the lens is usually a rotationally symmetric structure, both the object-side and image-side imaging planes are circles with different diameters. The telecentric lens can be within a certain object distance range, so that the magnification of the obtained image will not change, and the image taken is not divided into near big and far small.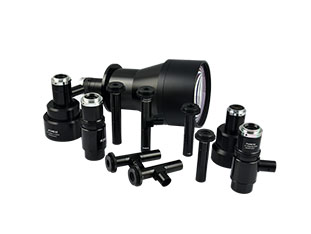 The telecentric lens has the characteristics of fixed magnification and no parallax, and is often used in the measurement of precise and tiny objects, such as PCB product measurement, mobile phone camera size detection, mobile phone glass size detection, pen tip defect detection, rubber product visual inspection, etc.
Because many optical concepts and principles are involved in the selection of telecentric lenses. General engineers need to learn a lot of professional knowledge if they want to select quickly, which will greatly affect the efficiency of selection. Pomeas can provide a selection table for telecentric lenses, allowing customers to look up the table more clearly, conveniently and efficiently.