In the past, traditional instruments and equipment were used for dimensional inspection. However, these traditional equipment have some inevitable disadvantages in technology and application, such as large measurement errors and slow inspection efficiency, so they cannot meet the production requirements of manufacturers. In order to It can improve the detection accuracy and detection efficiency. Many companies will choose a one-button image size measuring instrument. The image size measuring instrument is a new type of size measurement equipment. Different from the traditional two-dimensional image measuring instrument, the image size measuring instrument does not require a grating ruler. Displacement sensor, as a precision standard, only needs a telecentric magnification optical lens with a large field of view, a high-pixel industrial camera and an intelligent image processing algorithm to achieve rapid measurement.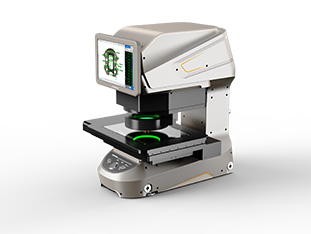 The function of the one-button image size measuring instrument:
1. The image size measuring instrument is mostly used for the rapid batch measurement of small-sized products and parts such as mobile phones, electronics, gears, watches, glass, and precision hardware accessories. It is convenient and efficient to use, and plays an important role in industrial development.
2. Compared with traditional measuring equipment, the image size measuring instrument has a fast measurement speed, and can complete more than 100 measurement tasks within 2 to 5 seconds, and its repeated measurement accuracy is high, which solves the problem of poor consistency of repeated measurement data for the same product. Phenomenon.
3. Using a large-scale deep center optical lens, equipped with an autofocus function, for the measurement object that cannot be focused at one time due to uneven surfaces, it can automatically focus according to the measurement position, thereby eliminating the focus error caused by different operators.
The Pomeas IMAGE3 series image size measuring instrument has a sensitive response, which can complete the measurement tasks of multiple workpieces in a short time, and the obtained data is highly accurate, and does not require repeated inspections. Modern production needs.