The industrial telecentric lens is a high-performance industrial lens that can solve the parallax problem of traditional industrial lenses. In visual inspection projects, it can avoid errors and obtain the highest possible accuracy. It is widely used in semiconductor, electronics and other industries. There are various types of telecentric lenses, how should they be selected? This article will introduce in detail.
Industrial telecentric lenses have unique advantages. In visual inspection projects, when you need to detect objects with thickness, objects that are not on the same plane, objects with apertures, three-dimensional objects, and low-distortion imaging requirements, the use of ordinary industrial lenses will be due to The change of magnification produces parallax, and the magnification of the telecentric lens does not change with the change of the depth of field, and the imaging accuracy is higher.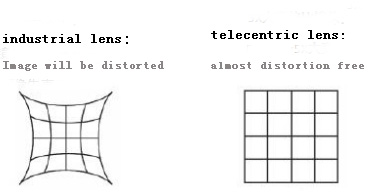 When choosing an industrial telecentric lens, the following points should also be considered:
1. Visual inspection projects will have accuracy requirements, generally the comprehensive accuracy of system hardware and software. In the early stage of system establishment, the achievable accuracy must be considered when selecting industrial cameras and lenses. Therefore, when selecting industrial telecentric lenses, it is necessary to match the accuracy.
2. The imaging size of the industrial telecentric lens should be greater than or equal to the size of the chip of the camera. It is best if the two are equal. If the size of the lens is larger than that of the camera, there will be a waste of cost, but it can still be used. If the size of the industrial telecentric lens is smaller than that of the camera, the imaging will produce black corners, the field of view of the lens cannot be guaranteed, and the imaging resolution of the camera will be lost. Therefore, it is necessary to match the target surface.
3. After the accuracy and target surface are matched, the interface between the telecentric lens and the industrial camera should also be considered. The interface between the camera and the lens must be consistent, otherwise it needs to be converted or cannot be installed.
The industrial telecentric lens has the advantages of accurate and consistent magnification, large depth of field, stable light source, low distortion, high resolution, etc., and excels in precision dimensional measurement and high-precision appearance inspection projects. Regarding the selection of industrial telecentric lenses, Pomeas can provide you with a complete solution.