With the popularization of large-scale integrated circuit design in the semiconductor industry, the demand for production volume standards and product quality in the industry chain has skyrocketed. Under the condition that the cost of production efficiency must be reduced, machine vision technology fully exerts an indispensable effect. The machine vision system consists of industrial lenses, industrial cameras, visual light sources, and image processing systems, among which visual light sources play a key role. There are many types of visual light sources on the market, and there are multiple projects for semiconductor inspection, which are selected in each project. The light sources are not the same, this article introduces the application and selection of visual light sources in semiconductor inspection.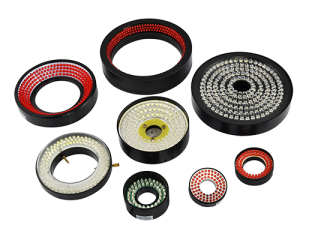 1. Use a coaxial light source to detect wafer characters: because the wafer will reflect light, the coaxial light source can image the reflective plane uniformly; the coaxial light source has high brightness and can be compatible with QR codes, characters and other feature recognition; the coaxial light path is vertical Good performance, more advantages for surface detection.
2. Use the combined light source to complete the visual alignment of the wafer: use the dome light source to highlight the positioning feature points, use the coaxial light source to fill the light, fully solve the shadow area, the uniformity of the combined light source is good, and the structure is easy to erect.
3. Use the high-brightness light source to complete the chip measurement: high brightness, high uniformity, high cost performance, and clearly present the chip outline.
4. The multi-angle ring light source completes the classification of resistance defects: the resistance is small, the defect position is uncertain, the use of multi-color can clearly identify the defect position, and the structure is compact and easy to install.
POMEAS is a core product supplier of machine vision and industrial automation. Its products include various types of industrial lenses, industrial cameras, visual light sources, microscopes, image measuring instruments, etc. It can not only provide visual inspection solutions for the semiconductor industry, but also , electronics and many other fields can provide surface visual inspection and precision dimensional measurement solutions.