The machine vision system consists of industrial lenses, industrial cameras, visual light sources, software systems, etc. The function of the light source is to clearly distinguish the measured object from the background to obtain high-quality images, which plays an important role in the vision system. The light source is an important link in the construction of the vision system. In addition to many types of machine vision light sources, there are also different color distinctions. How should we choose? This article will introduce in detail.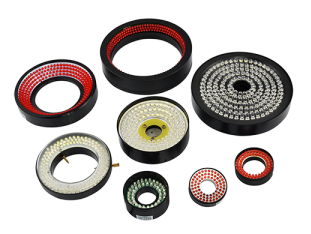 In general, if a black-and-white camera is used in the vision system, and there is no special requirement for the color selection of the object to be measured, a red light source can be selected. The red light source can pass through some dark objects, such as the hole position positioning of the black transparent flexible board at the bottom, the line detection of the green circuit board, the thickness detection of the light-transmitting film, etc. The use of the red light source can improve the contrast. Moreover, the red light source has a long life, stability and low price. More importantly, the wavelength of the red light source is closer to the sensitivity peak of the sensor, while the usual CCD is less sensitive to purple and blue light than the red light.
If imaging in color, generally consider using a white light source. White light sources have wide applicability and high brightness, and are often used when shooting color images.
There are also some other color light sources in the visual light source. The blue light source is suitable for silver background products such as sheet metal, automobile processing parts, etc.; the green light source is mainly for red background products and silver background products.
In machine vision applications, attention should be paid to the matching of the color of the target and the color of the light source. We see an object in a certain color because it reflects the corresponding spectrum. When we shoot an object, if we want to make a certain color white, we have to use a light source that is the same or similar to this color, and if we want to make it black, we need to choose a light source with a larger wavelength difference from the target color.