Industrial video microscope is widely used in product inspection for industrial manufacturing, which is an important instrument for product quality and performance testing. The traditional microscope test system is to manually adjust the focus, which needs to be operated repeatedly, taking a long time and low efficiency.
As people's requirements for automation and intelligence of microscopes increase, the auto-focusing technology is becoming more and more important. Especially some occasions need personnel to leave. This requires a microscope that can focus remotely and quickly.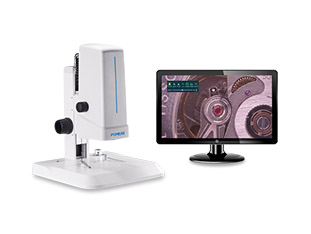 The principle of auto-focus video microscope is to use digital image processing technology to directly analyse the image made by the lens, according to the imaging of the focus evaluation function to determine whether the focus, can accurately determine the state of focus, if it is not in focus, the device automatically adjusts the lens in accordance with the algorithm.
POMEAS Auto Focus Video Microscope adopts integrated body design, full set of optical system developed independently, with light source switching, continuous zoom, auto focus and other functions, no need to use the eyepiece, you can observe the samples on the monitor with a new angle, and can display and save high-quality full-colour static images and dynamic high-definition movies.
Features of the autofocus video microscope:
1. Observation without eyepieces, with real-time focus, continuous zoom function, saving time, effectively improve work efficiency;
2. Unique HDR function edge enhancement mode, the image is clearer, high magnification, configured with high-definition camera, more conducive to observe the details of the product, can be more than one person at the same time to observe the results;
3. Double USB interface, can save static image/dynamic video; Simple and easy human-computer operation software, with measurement function; Provide multiple lightings.
4. provide a variety of light source matching mode, simple man-machine interface, simple operation, easy to use.