There are several types of microscopes, and the 3D video microscope is one of them.3D video microscope is a microscope that can observe vertically or do 360° all-round rotating observation on the side of the product at various angles. It has a strong sense of three-dimensionality, clear and wide imaging, long working distance, large depth of field, large resolution and other characteristics. It is a microscope with a very wide range of applications.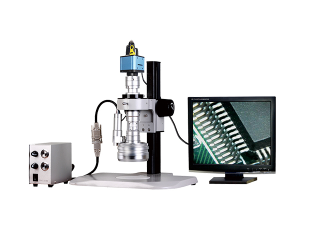 Functions of the 3D video microscope:
1、Traditional microscopic technology combined with modern electronic technology, inspectors can observe directly through the screen to relieve fatigue and improve detection efficiency;
2. Continuous zoom, able to clearly image objects over a long distance;
3.360 ° multi-angle real-time observation, can solve the vertical observation can not be clearly observed when the side of the object under test;
4. Large depth of field and high resolution. High contrast images and vivid colours can be obtained;
5. Mouse operation can complete the function adjustment, image processing and other operations, easy to use, bring users a new experience.
3D video microscope adopts high-performance CCD acquisition, image reproduction is true. And provide rotatable three-dimensional observation of the object under observation, changing the single two-dimensional observation of the microscope, greatly improving the observation range of the microscope. Meet the modern electronic equipment, semiconductor, LED, LCD, precision hardware, industrial on-line inspection and biological and other fields of imaging observation and inspection.