Machine vision systems use machines to replace human eyes for measurement and judgment.It converts the captured target into an image signal through a machine vision product, transmits it to a dedicated image processing system, and converts it into a digital signal based on pixel distribution, brightness, color and other information;The image system performs various operations on these signals to extract the characteristics of the target, and then controls the on-site equipment actions based on the discrimination results.
The hardware structure of a general machine vision system includes three parts: industrial camera, industrial lens and visual light source.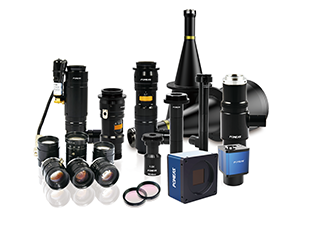 Advantages of machine vision systems:
1. Compared with the human eye, machine vision has a higher magnification and can grasp the details of products more accurately.
2. Compared with manually using a microscope or other observation equipment to detect details, the optical system of machine vision can quickly and stably capture images at a set speed after being debugged.
3. Machine vision performs feature comparison within the software, quantifies the detection standards and strictly implements them, making the detection more objective and free from the interference of subjective fatigue and other emotions, effectively reducing subjective errors.
Machine vision systems have the advantages of high precision and high efficiency, which can assist industrial quality control. They are widely used in mobile phones, electronics, hardware, plastic parts, PCB and other industries.