The development of automobiles has gone through a number of stages, from hand-made to mechanized production, and from fuel-powered to electrified.With the rapid development of the automotive industry, product quality control is the competitive advantage of enterprises, the dimension measurement of automotive parts has become more and more important.However, due to the variety of automotive parts and complex shapes, traditional manual inspection methods are difficult to complete the accuracy requirements, so the choice of a good measurement equipment is a guarantee to ensure product quality.
Automotive engine connecting rods are important parts in automobiles.If the dimension accuracy of the connecting rod of the automobile engine is not up to standard, it will cause consequences to the automobile such as increased noise, increased fuel consumption, and shortened engine life, thus affecting the overall performance of the automobile.Therefore, the dimension accuracy of automobile engine connecting rods is very important and must meet the standard requirements.
Dimension measurement is an important part to ensure the accuracy of engine connecting rods, shaft diameter, center distance, roundness, hole diameter, etc. are the necessary items for connecting rod dimension testing.
POMEAS IMAGE3 series image measurement instrument equipped with high-resolution double telecentric lens, low distortion, large depth of field, true and clear imaging, combined with high-precision image analysis and processing system, automatic identification of the measuring part, can accurately and stably complete the connecting rod size measurement.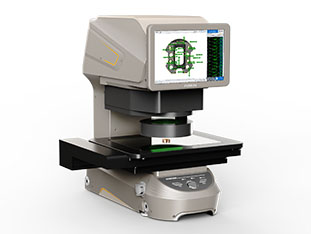 POMEAS Image Measurement Instrument incorporates the principle of one-button flash measurement, programmed to automatically measure by pressing the start button, the detection process is simple and fast, anyone can easily operate, and the measurement results are uniform and stable. It is the best tool for automotive, hardware, electronics and other industries to measure dimensions!