The full spelling of FA is Factory Automation, that is, factory automation, FA lens refers to the lens used for factory automation, referred to as industrial lens, can be used for industrial vision alignment, size inspection, surface vision inspection and other scenes.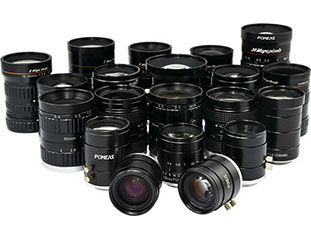 FA industrial lens is an important part of the industrial vision inspection system, there are many types on the market, has formed a huge system to adapt to the application of different conditions, the division of industrial lenses can also be carried out from a variety of perspectives. According to the interface is different, usually can be divided into C mouth and CS mouth, according to whether the focal length is variable, can be divided into zoom lens and fixed focal length lens, other categories there are microscopic lenses, line scan lens and so on.
As industrial automation speeds up, dynamic imaging applications for industrial vision inspection are increasing. Facing the market demand for high-rate and low-cost applications, in order to provide customers with more cost-effective options, POMEAS FA industrial lens products are further expanded for more market segments, providing more convenience for machine vision application development.
POMEAS newly launched 10MP and 20MP FA lenses with high resolution, excellent image quality, compact form factor, cost-effective, and available in a variety of focal lengths, which can satisfy all kinds of machine vision applications and obtain better imaging results.
FA industrial lens low cost, wide range of uses, and the integration of industrial cameras to replace the difficult manual visual inspection, to ensure the safety of manpower, and can make industrial production and manufacturing efficiency to further improve the process of industrial technology is essential in the future.