What is an industrial robot?
Industrial robots are the general name of robots used in industrial production. Industrial robots are a kind of robots that can automatically run through programming or teaching. They have multi-joints or multi-degrees of freedom, and have certain perception functions, such as vision, force and displacement detection, so as to realize the autonomous judgment and decision-making of the environment and working objects. It can replace manual automatic machines to perform manual work in heavy, boring or harmful environments. Complete sets of equipment consist of industrial robots and peripheral and peripheral auxiliary equipment needed to complete work tasks. It can minimize manual participation and improve production efficiency.
What are the advantages of industrial robots?
Industrial robots and complete sets of equipment can be widely used in various production links of enterprises, such as welding, mechanical processing, handling, assembly, sorting, spraying and so on. The application of industrial robots and complete sets of equipment can not only liberate workers from heavy or harmful physical labor, solve the current labor shortage problem, but also improve production efficiency and product quality, and enhance the overall competitiveness of enterprises.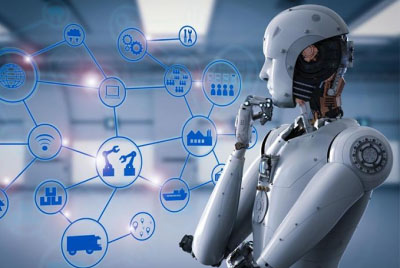 Core Technology of Industrial Robot
Reducer, servo motor and controller are the three major parts of industrial robots. Large foreign industrial robots enterprises often build their core competitiveness by mastering key parts technology.
Controller development of industrial robots is moderately difficult, mostly for robotic enterprises; servo motors are the core driving mechanism of automation equipment such as robots. In addition to robotic enterprises (such as Anchuan and Panasonic) developed by motor enterprises, servo motors are mostly purchased from outside; reducers commonly used in industrial robots are purchased. There are two kinds of RV reducer and harmonic reducer. The technical development of the reducer is the most difficult. It is mainly purchased from Nabotsk and Hamerako, two Japanese enterprises.
Considering the current situation of our country, the labor cost in our country is still in the rising stage, and since the outbreak of industrial robots in 2013, the development of the industry has lasted less than five years. From Japan's experience trend of 10 years'high-speed growth, the robot industry is moving towards a deeper and more comprehensive field.
Enterprise Distribution in Industrial Robot Industry
Regional Distribution of Industries
Industrial robots are widely used in automobile manufacturing, electronics, electrical, chemical, metallurgical and other fields. At present, China's industrial robotics industry is mainly concentrated in East China and North China.
Regional Distribution of Enterprises
In 2016, the number of domestic industrial robotics enterprises reached 1 231. Among them, Guangdong Province has the largest number of robotic manufacturers, reaching 352, followed by Zhejiang Province 204, ranking second; other regions such as Jiangsu, Shandong, Shanghai, Beijing, Anhui, Liaoning and Chongqing have 172, 90, 126, 62, 63, 47 and 52, respectively.
Competitiveness Analysis of Industrial Robots
Overall Competition
The domestic robot market can be divided into four echelons:
The first echelon: ABB, Fanaco, Anchuan and KUKA, the four big families of robots, have a market share of more than 50%. The production scale is large, the cost is low, the product line is rich, and it can cope with various mainstream applications. The product performance represents the world's advanced level, and the system integration occupies a high-end and dominant position, especially in the automotive industry to form a strategic cooperative relationship with the whole car factory.
Second tier: Italian Coma, Japanese OTC, NACHI, Mitsubishi, EPSON, Kawasaki, French Staubert, American ADEPT and other international second-tier brands, as well as German Duer, CLOOS and other important system integrators. The whole is not as good as the four families, but in some subdivisions, there are more than four series of products.
Third echelon: Xinsong, Guangzhou CNC, Evert, Eston, Xinshida and other large domestic robotics enterprises as representatives. There is a big gap between the products of these enterprises and the first echelon, and some of them are close to the second echelon.
Fourth echelon: Other small and medium-sized robotic enterprises or new entrants in China are characterized by large numbers and rapid growth. Many of them are stimulated by policies after 2014, and generally lack of technology accumulation. They mainly focus on assembly, low-end products and prominent homogeneous competition.
Development of Industrial Robot Local Enterprises
At present, domestic industrial robot manufacturers are developing rapidly, but they are still in the early stage of industrialization. The overall scale of manufacturers is small, the market share is small, and there is a certain gap in technology level with foreign brands.
At present, there are more than 40 listed companies involved in robotics. Most of them are involved in robotics business after 2012. Most of the company's robotics products are in the stage of technology research and development or trial. Some companies are engaged in system integration business with low technology threshold to quickly intervene in this industry.
An Analysis of Investment Strategies of Multinational Enterprises in China
Multinational companies mainly set up subsidiaries in China, joint ventures or through industry exhibitions will push industrial robots to the domestic market.
In order to enter the domestic market or expand the market share in China, in recent years, many multinational enterprises have chosen to cooperate with domestic enterprises and institutions in addition to setting up factories or investing in subsidiaries in China.
With the expansion of the domestic industrial robot market, more and more multinational companies enter the domestic market. In order to better understand and integrate into the local demand market, cooperation with local enterprises and R&D institutions is an essential strategic link. In the first half of 2018, the United States Group Co., Ltd. and KUKA Aktiengesellschaft (Kuka Group) set up a joint venture company to build a new production base and jointly promote Kuka's business in the Chinese market. Therefore, it is foreseeable that more multinational corporations will emerge in the future.