2017.09.13
China International Photoelectric Exposition (CIOE) is the largest, most influential and authoritative photoelectric professional exhibition in the world. Its total exhibition area is 110,000 square meters. It attracts more than 3,200 well-known photoelectric brands at home and abroad and nearly 60,000 professional audiences at home and abroad. The 19th China International Light Exposition, held from September 6 to September 9, was held in Beijing. The tele-exposition successfully concluded in Shenzhen Convention and Exhibition Center.
As an integrated supplier of optical components and solutions in the field of industrial inspection and machine vision, POMEAS is a national high-tech enterprise integrating independent research and development, manufacturing, integrated application, marketing and continuous service. It has more than 50 patents for invention and utility model, and software and hardware in many fields. Nearly 100 engineers.
POMEAS was invited to attend the exhibition and presented the latest products and new AI solutions: "aMachine" printed CCD visual alignment system, "AI-Sentry visual sentry" AI visual inspection system, "aV ision-on-line" online dimension and defect detection system, aVision-near-line line side. Dimension and Sample Classification System and Automatic Focusing Video Microscope Scheme.
The exhibition has a strong lineup, a large number of elite, a total of nine pavilions. Many new visual solutions introduced by POMEAS have attracted a large number of exhibitors. There are a large number of people in front of the booth, and staff members have been introducing and discussing with visitors with full enthusiasm and earnest attitude.
As soon as the new AI-Sentry vision sentry system, which was popularized by POMEAS, appeared, it attracted many customers'attention.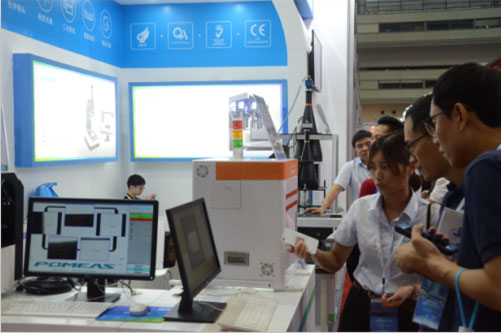 Businessmen are introducing the AI-Sentry Visual Sentinel Artificial Intelligence Visual Detection System to customers
The new product `aV ision-on-line'online size and defect detection system is powerful and can realize online detection, which arouses the strong interest of customers. Customers personally operate instruments to check the detection results.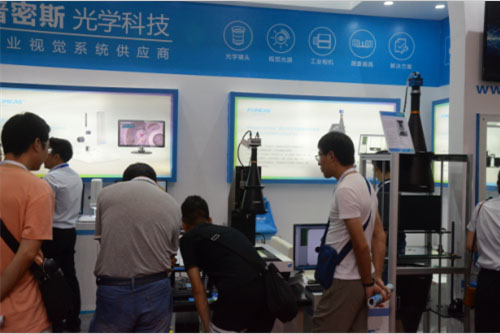 Customer Operates Size and Defect Detection System on'aV ision-on line'
The Auto Focus Video Microscope (AFVM) displayed by POMEAS has always been a good performance, practical and very popular with customers.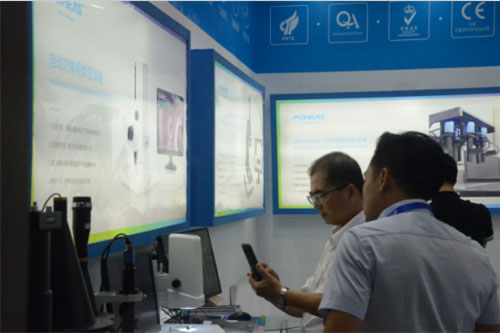 Clients take effect maps of video microscopes
Prismatic vision-near line line size and sample classification system shows the strength of the company, with the function of "one-time programming, one-key detection", the recognition rate reaches more than 99%, and the effect of the exhibition is also good.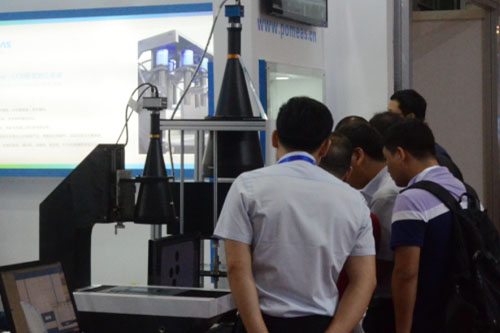 Customer Visit aVision-near line Size and Sample Classification System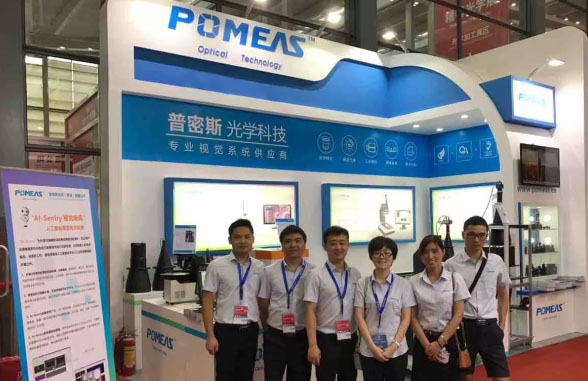 Photo taken by POMEAS Business Team
POMEAS will focus on the real needs of customers, focusing on the development of machine vision solutions, and will introduce more visual automation solutions to help you achieve industrial automation as soon as possible.