Ring spring, referred to as ring spring, has a ring-shaped structure. The ring spring has the characteristics of small size, large energy storage and convenient combination and use. Electric power and other machinery industries. In order to ensure that the size and tolerance of the ring spring meet the configuration requirements, it is necessary to do precise dimensional measurement, including the detection of parameters such as the peak circle and diameter of the spring.
The traditional method mainly uses a projector or an imager for measurement, which requires positioning during measurement, high requirements for operators, slow measurement speed and low efficiency, and cannot meet the needs of rapid batch delivery in modern production.
POMEAS detection scheme:
Use the Pomeas image measuring instrument to capture the image with a double telecentric optical lens, combined with a gigabit network camera and a high-precision image analysis algorithm, to accurately measure all the dimensions of the ring spring.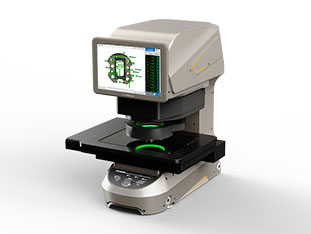 Program advantages:
The Pomeas image measuring instrument subverts the traditional measurement mode, incorporates the principle of one-button flash measurement, and can quickly measure all the dimensions of the ring spring by pressing one button, making the tedious measurement tasks simple and easy to operate. Pomeas one-button image measuring instrument, with auto focus function, automatically captures the edge, and the measurement is more accurate. The measurement field of view reaches 300×200mm, which can measure multiple products in batches, and the efficiency is greatly improved.