Hardware castings are the basis of industrial production and economic development. Many industries are inseparable from metal castings, such as automobile manufacturing, motor manufacturing, traditional machinery manufacturing, machine tools, computers, aviation, etc.
The control of the surface size of metal castings is very important for high-quality production and assembly. The dimensional inspection of metal castings is a necessary step to ensure that product dimensions and tolerances meet production requirements. Pomeas one-button image measuring instrument is specially developed for the multi-dimension measurement requirements of precision parts. The operation method is simple, there is no human error, and the detection efficiency is high. It is a high-quality choice for the size measurement of hardware castings!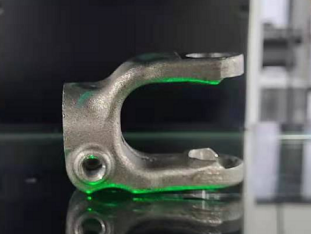 The Pomeas image measuring instrument has the following advantages:
1. The Pomeas IMAGE3 image measuring instrument is equipped with a double telecentric optical lens to achieve overall imaging, combined with a high-resolution industrial camera, an automatic lifting and multi-angle surface light, and an image analysis and processing algorithm to achieve high-precision surface size measurement after software calculation.
2. The desktop shape design makes full use of the space structure and humanized design concept. It is small and exquisite, occupies a small area, and is easy to carry. It is suitable for the size detection of the production line.
3. Multiple products can be randomly placed in the measurement area at the same time. The system has a fast measurement speed and can measure 100 parts in 1 second. The software operation interface is simple and easy to understand, which can easily write measurement programs and report parameter settings. Anyone can get consistent test results.