In industrial production, in order to ensure the quality of the product, it is necessary to test the parameters of the product such as size and finish. The manufacture of industrial equipment requires various parts for product assembly. Industrial parts have different shapes and sizes. Ring parts are one of them. The dimensions of the ring parts play an important role in the workpiece to be assembled. In order to ensure the matching of product dimensions, it is necessary to precisely measure the appearance dimensions of the ring parts.
Measurement requirements:
Detect the inner diameter, outer diameter, roundness, thickness and other dimensions of ring components, and realize automatic and rapid measurement of multiple specifications.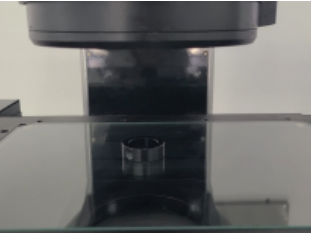 Measurement plan:
Use the Pomeas one-button image measuring instrument to measure the size of ring components, online non-contact measurement, and one-button can measure the roundness, inner and outer diameter of ring products, and obtain thickness dimensions, etc. The Pomeas image measuring instrument is equipped with a double telecentric optical lens and has a large field of view imaging, which can realize the simultaneous measurement of multiple specifications of products and effectively improve the detection efficiency.
The Pomeas image measuring instrument has the following advantages in size measurement:
1. Fast and efficient: the position of the workpiece can be placed arbitrarily, batch measurement;
2. Simple operation: the operation process is easy to learn and easy to use;
3. Accurate measurement: The measurement accuracy error can be controlled within ±5μm, automatic focus, automatic identification of measurement products, anyone can use it to ensure consistent measurement results.
The one-button image measuring instrument of Pomeas is suitable for precision dimensional inspection of mobile phones, watches, hardware, electronics, molds and other industries.