A telecentric lens is an imaging lens with constant magnification within a certain working distance, which is a very important application when the measured objects are not on the same surface.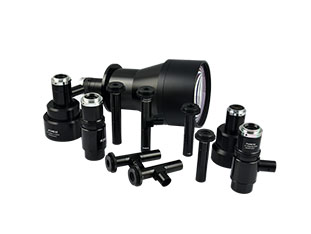 Telecentric lenses can be divided into object-side telecentric lenses, image-side telecentric lenses and bilateral telecentric lenses. The double-telecentric lenses are parallel light entering and exiting, with zero distortion and no perspective error. They are suitable for high-precision detection and Applications in the measurement industry. Compared with ordinary industrial lenses, it can solve the following problems:
1. Resolution: The resolution of general industrial lenses cannot keep up with the improvement of chip resolution. It is limited by the principle of its optical imaging, and can only be about 10μm. It can be used with cameras with 1000W pixels, which cannot meet the current high Requirements for high-resolution cameras and high-precision measurement inspections.
2. Depth of field: Generally, the depth of field of industrial lenses is relatively small. When the object to be measured exceeds its range in the depth direction of the lens, detection or measurement cannot be performed.
3. Extension ratio: The extension ratio of traditional industrial lenses changes with the working distance. This characteristic can lead to intolerable errors when vision systems with industrial lenses are used to perform fine measurement tasks.
Pomeas Optics is a professional high-tech enterprise integrating R&D, design and manufacturing. It is currently a manufacturer with complete specifications of industrial lens products in China. Quickly solve visual problems and provide complete optical solutions.