The one-button measuring instrument, also known as the flash tester, integrates the concepts of large-field image flash measurement, high precision, full automation, and rapid measurement. Multi-dimension fast measuring instrument.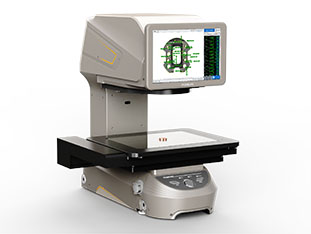 The structure of the one-button measuring instrument includes upper and lower light sources, high-pixel industrial cameras, double telecentric lenses with large depth of field, fixed stage, control system, etc. Among them, the optical lens plays a very important role. It is a one-button type. The main bridge between the measuring instrument and the measuring workpiece, but there are so many types of industrial lenses on the market, why choose a bi-telecentric lens?
Telecentric lens is a category of industrial lens, with high telecentricity, no perspective error, almost zero distortion, etc., and has relatively high-quality imaging quality. Telecentric lenses can be divided into object-side lenses, image-side lenses, and double-telecentric lenses. Among them, double-telecentric lenses have the advantages of both object-side and image-side telecentric lenses. The dual-port design supports two cameras working at the same time and has a large field of view. High resolution, can solve the problems of image deformation, small imaging field of view, and inappropriate light source interfering with image measurement accuracy encountered in ordinary industrial lens imaging. It is very suitable for high-precision dimensional measurement and defect detection. Excellent choice of optical lenses.
Pomeas double-sided telecentric lens VP-LDTC016/07-120, double magnification, low distortion, high resolution, can better meet the needs of one-button measuring instrument customers.
Pomeas is a professional supplier of core components for machine vision systems. It can provide vision system integrators with industrial lenses, industrial cameras, visual light sources and other products. Through continuous research and innovation, Pumis products have been applied to mobile phone screen detection, circuit board detection, Hardware testing, glass size measurement, full inspection of auto parts and other fields.