The machine vision system has the characteristics of high precision and high-speed automation, which can achieve high resolution accuracy and speed. It is widely used in the field of industrial inspection and can greatly improve the quality and reliability of products. The machine vision system is not a single simple system. To operate stably, industrial cameras, machine vision light sources, frame grabbers, image processing software and industrial lenses are indispensable, and each part plays a key role.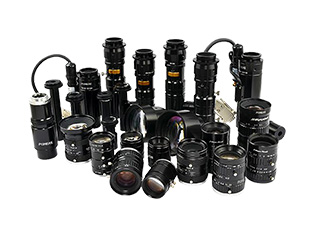 The function of the industrial lens is to image the object to be inspected on the photosensitive surface of the image sensor, which is equivalent to the role of the eye. The industrial lens is divided into fixed focus lens, telecentric lens, and zoom lens. Introduce the difference between telecentric lens and zoom lens for better understanding.
A telecentric lens is generally an industrial lens with a fixed focus and a fixed working distance. According to its unique parallel light design, high resolution, ultra-wide depth of field, and ultra-low distortion, it can correct the parallax of ordinary industrial lenses and solve the problem. The deficiencies in practical applications bring a qualitative leap to machine vision precision inspection.
The zoom lens is an industrial lens whose magnification can be continuously adjusted within a certain range. It adopts an infinity optical system to obtain excellent image quality in the entire field of view. The zoom lens is characterized by high resolution and high contrast. The focal length of the lens can be continuously changed, and the magnification of the lens changes without changing the object distance, that is, the photographer can change the field of view and the size of the image without adjusting the distance of the scene.
The main products of pomeas optics are 4K zoom lens, continuous zoom lens, telecentric lens, FA lens, industrial camera, visual light source, etc. If you need optical system solutions, you can contact Purmis to provide you with customized vision systems Program development.