The rapid development of microelectronics technology has made the integration of various semiconductor chips higher and higher, and the size of the chip tends to be miniaturized and miniaturized, which puts forward higher requirements for the appearance quality inspection of the chip.
The chip inspection items include identifying whether the appearance exists: scratches, scratches, the presence or absence of gold wires, damage and other defects, and rejecting defective products to avoid entering the market and causing negative effects. However, due to the small size of the chip and high precision requirements, ordinary industrial lenses cannot meet the requirements of clear imaging detection.
The Pomeas 4K zoom lens is a 4K high-resolution lens with a large field of view. Compared with the traditional zoom lens, the field of view can be increased by 1.45X, which can meet the high-precision detection requirements of the chip. Pixel industrial cameras and automatic identification software form a visual inspection system, which can meet the high-speed automatic inspection efficiency.
Detection effect: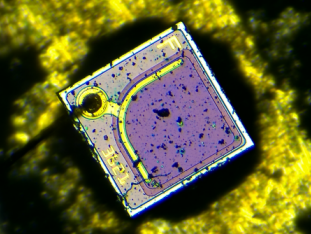 The Pomeas 4K zoom lens, with high magnification and large target surface imaging, has a larger field of view than traditional lenses, and has always maintained high-definition imaging, which can clearly identify chip appearance defects. The 4K zoom lens also performs well in high-precision vision applications such as array through-hole inspection, circuit board solder inspection, and pin inspection.