Telecentric industrial lens is an important optical accessory in machine vision system. Because of its low distortion, high contrast and high resolution, it is widely used in dimensional measurement and quality inspection of industrial production. However, a complete inspection system is composed of lenses, light sources, industrial cameras, and image analysis algorithms. Each component requires strict selection in order to obtain higher-quality images and build the most cost-effective vision solution.
At present, there are a variety of visual light sources on the market, such as point light sources, surface light sources, strip light sources, parallel light sources, coaxial light sources, ring light sources, and so on. What light source is used for telecentric industrial lenses in the visual inspection system, which has better imaging effect?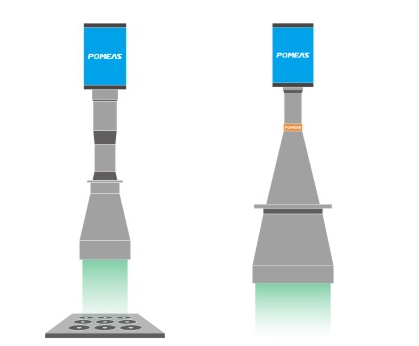 Parallel light source: Telecentric lens combined with parallel light source detection can eliminate edge blur caused by light source diffusion, obtain clear and sharp images with sharp edges, and provide detection accuracy, suitable for image size measurement of cylindrical, circular and three-dimensional objects .
Coaxial light source: uniform diffusion, can greatly reduce shadows, very little glare, with telecentric lens, suitable for detecting objects with high brightness and easy reflection.
Ring light source: The use of flexographic plates and different LED particles can make light sources with different lighting angles and different colors, with uniform brightness, which can better highlight the information of the measured object. Combined with a telecentric lens, higher quality images can be obtained, suitable for applications such as defect identification of precision electronic parts and industrial quality inspection.
It can be seen from the above that the telecentric industrial lens can be applied to different scenes with different light sources, and there is no situation that which light source is used for better imaging effect. The specific matching should be selected according to the actual application scene. Pomeas is a professional supplier of machine vision system accessories, with a variety of product models, which can provide you with the best selection solution.