The industrial video microscope is a high-tech microscopic imaging product that combines high-precision optical microscopy technology, photoelectric conversion technology and liquid crystal screen technology. It is an upgraded version of the traditional optical microscope, so what are the advantages of the video microscope? This article takes the Pomeas autofocus video microscope as an example to introduce the five advantages of industrial video microscopes in detail.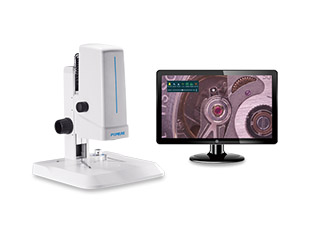 1. It can be directly connected to the computer and previewed on the computer screen to realize simultaneous observation by many people.
2. The imaging device of the industrial video microscope has functions such as printing graphic reports, video recordings, etc. It can save pictures for research and comparison, form cases, and facilitate circulation. Ordinary microscopes can only perform microscopic observation.
3. The industrial video microscope has an auto-focus function, the processing speed becomes more efficient, the picture has no smearing, the color of the product is true, and there is almost no difference between the detected object and the computer monitor.
4. The size of the industrial video microscope is miniaturized and can be easily moved to realize line-side inspection of the production line.
5. The industrial video microscope has no eyepieces. It collects product images through lenses and cameras, and presents the images on the display screen in real time, which is convenient and quick, and greatly relieves the pressure of human eye observation.
The industrial video microscope realizes the transformation from human to machine vision and from qualitative inspection to quantitative inspection, which greatly improves our work efficiency and overcomes the uncertainty of human inspection.