The telecentric lens is a key component in a high-precision machine vision measurement system. It has the characteristics of high resolution and low distortion. It can correct the parallax of traditional industrial lenses, reduce or even eliminate the magnification change, image distortion, perspective error, etc. caused by object displacement. Poor image resolution, etc.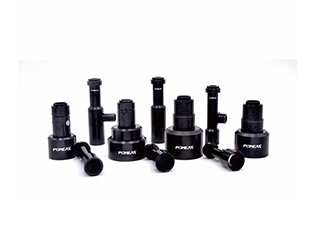 Telecentric lenses can be divided into coaxial telecentric lenses and non-coaxial telecentric lenses according to different light source technologies. What are the differences between these two lenses? What occasion is it suitable for?
Non-coaxial telecentric lenses have the characteristics of low distortion, high telecentricity, and high depth of field, and are suitable for precise inspection of factory automation, but most of them use surface light sources or parallel light sources. It will affect the detection accuracy.
The coaxial optical telecentric lens adopts the coaxial epi-light illumination technology, which can realize shadow-free illumination, which is more uniform and clearer than the traditional light source. The accuracy of machine vision systems.
Coaxial phototelecentric lens is suitable for semiconductors, electronic equipment, microelectronics and other fields of microscopic objects with reflective properties that can only be observed under coaxial illumination. It can identify the characteristics of integrated circuits, glass, liquid crystal panels, etc. Automated imaging control of electronic manufacturing equipment.
Pomeas telecentric industrial lenses cover all categories, and strictly control the quality, the lens distortion rate is lower, which can better meet the high precision requirements of machine vision system customers. Purmis also has products such as zoom lens, FA lens, image size measuring instrument, visual light source, etc., to provide more assistance for automated production.