Gears are widely used in mechanical transmission and the entire mechanical field. The quality of gears seriously affects the performance of machinery and the stability of production lines. Uneven tooth pitch will affect transmission efficiency and accuracy, uneven tooth root will cause other gears to collapse, and uneven tooth height of gears will easily lead to tooth collapse. Therefore, it is necessary to do precise gear size measurement to ensure the normal operation of the gear and meet the production requirements.
Testing requirements:
Fast and accurate measurement of gear pitch, inner hole diameter, gear diameter, radius and other dimensions.
Detection scheme:
Using POMEAS IMAGE3 image measuring instrument, the gear pitch, diameter, radius and other dimensions required for gear processing can be quickly measured, which has brought great progress to the processing of metal gears, and can bring great improvements to the work. Mass fine production of gears.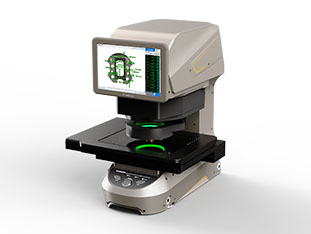 Program advantages:
1. Arbitrarily place the gear product on the instrument workbench, after programming, start with one key, and the relevant parameters can be measured in a few seconds, and the measurement process is simple and fast.
2. Multiple workpieces can be measured at the same time, and the repeated measurement accuracy is high, which can effectively solve the problem of poor consistency of repeated measurement data of the same product.
3. Automatically save and output the report of the measured size and tolerance evaluation. In the report, you can see the measurement date, measurement data, and measurement time, which is convenient for data tracking.