Compared with 4G network, 5G network has the advantages of fast transmission speed, high speed, low delay, large capacity, etc., which brings direct changes to our lives and makes intelligence closer to us. However, the performance of the 5G network is closely related to the quality of the chip. Therefore, in order to ensure the high speed of the network, strict quality inspection needs to be done during the production of the chip.
5G chip quality inspection includes defect inspection and component inspection. The traditional inspection method is through manual visual inspection, but this method has a slow inspection speed, a long inspection time, and is easy to miss, and the inspection cost is high. At present, chip manufacturing also tends to be high-precision, and the volume is also developing toward lighter, smaller, and thinner. Manual inspection can no longer meet production needs. Therefore, it is of great practical significance to design an efficient and accurate machine vision inspection system equipped with industrial lenses and industrial cameras to replace human eyes.
POMEAS 4K zoom lens is a high-resolution large-field industrial lens. Compared with traditional industrial lenses, the resolution of 4K lenses is significantly improved at high magnifications, which can meet the high-precision detection requirements of 5G chips.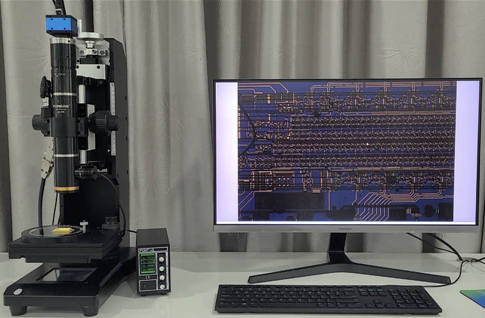 Detection scheme
1. The lens uses POMEAS 4K zoom lens, which can magnify small defects and identify defects faster and more clearly.
2. With a 1-inch Gigabit Ethernet industrial camera, the transmission rate is stable, the imaging accuracy is high, and the quality is good.
3. Equipped with POMEAS visual light source, it clearly illuminates the defects and is easy to identify.
POMEAS 4K zoom lens, high magnification and large target surface imaging, wider field of view, and always maintains high-definition imaging, which can clearly identify chip appearance defects. The 4K zoom lens also performs well in high-precision vision applications such as liquid imaging analysis, circuit board solder detection, and pin detection.