The charger head is usually printed with brand, model, input/output, and other parameter information, if this information appears in the font skewed, missing characters, misprinted characters, etc., it may affect the brand image and product sales, so the process of charger head silkscreen printing needs to be strictly controlled, and the quality inspection of the finished product is also essential.
In this article, we will introduce the detection method of charger head silkscreen.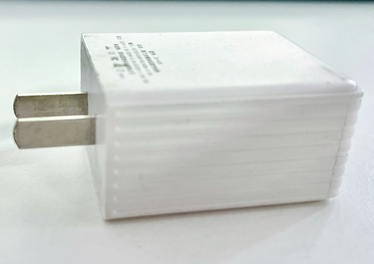 Detection Requirement:
Detect whether the characters on the surface of the charger head have defects such as misprints and omissions.
Detection Difficulties:
The surface of the charger head is generally very high gloss, the use of ordinary industrial lenses for inspection and shooting is susceptible to the influence of external stray light, resulting in unclear images, unable to accurately extract the characteristics of the silkscreen characters, affecting the detection effect.Therefore, you should also pay attention to the control of external light when shooting, resulting in slow detection efficiency and low precision.
Detection Solution:
The use of POMEAS double telecentric large magnification industrial lens, high resolution, unique telecentric optical path design, can avoid the interference of external stray light, clear access to the product image, rapid extraction of the charger head character features, enhance the detection efficiency.
In addition to solving the problem of high gloss or high reflective surface feature extraction, telecentric industrial lenses can also solve parallax problems, and can also be very advantageous in applications where the size of the workpiece or feature needs to remain constant in the imaging plane independent of changes in working distance.