In 2021, our country has entered into a year of rapid development of semiconductors. With the rapid development of LED technology and the gradual improvement of LED light efficiency, the application of LED will become more and more extensive. In 2020, the international situation is tense and the global energy shortage is becoming more and more serious, and everyone is paying more and more attention to the development prospects of the LED chip market. Recently, our company has gotten more and more semiconductor inspection projects, such as gold wire welding foot detection, broken wire detection, positioning detection, etc.
POMEAS as a brand company with many years experience in vision solutions, it has made every effort to pave the way for the popularization of LED semiconducting detection. The case brought by POMEAS in this issue is Application Solution Detection Case of Gold Wire on the LED Semiconductor Chip . A gold wire is a main connection material between the chip and the external circuit, so a more rigorous detection solution is required. This solution mainly detects whether the gold wire on the LED semiconductor chip is qualified for welding, whether there are broken wires, jumpers, tin liquid overflow and other defects.
Project Challenge
——
● The The volume of the gold wire is very small, and the surface metal is reflective obviously.
● Detection on single station can not detect many kinds of defects, and prone to missed judgments.
● The manual detection efficiency under a high-power microscope is low, and it is prone to get tired.
Solution Case
——
● For the camera, we use high-precision 500W color CCD camera.
● For the lens, we use high-precision 12.5X high zoom ratio lens.
● For the light source, we use white ring light source with design of coaxial and small angle small inner diameter .
● It can replace manual detection and solve the problem if low detection efficiency, through the double-station to detect gold wires and solder ball.
Case Demonstration
——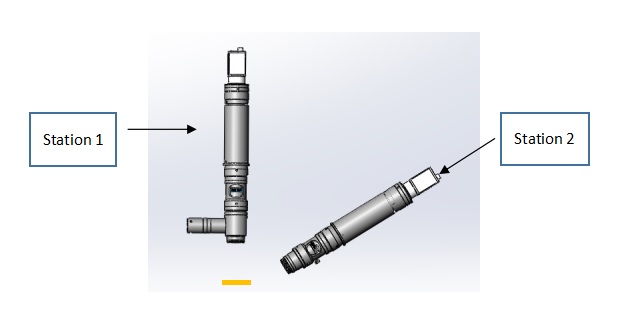 Station 1 is to detect whether the gold wire on the chip is qualified for the front welding, whether there are broken wires and jumpers. It can also be used to detect the other conductor wire state.
Station 2 is to detect whether there are defects such as weak welding at the welding place between the gold wire and chip board.
Core components Introduction
——
⑴ POMEAS 500W high definition CCD camera
The new generation of gigabit network camera has lower power consumption and smaller dimension. 1000m bit/s stable transmission speed is compatible with 100 Mbit LAN. It can truly restore images in all scenes and color temperature to keep sharp and clear, as its low power consumption, low noise and high stability.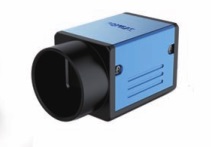 ⑵ POMEAS High Precision Zoom Lens: PMS-Z125C-C、PMS-Z125D
In order to ensure that the welding state of the gold wire is fully highlighted, we use a dual-position machine with zoom lens solution to observe the target from different angles.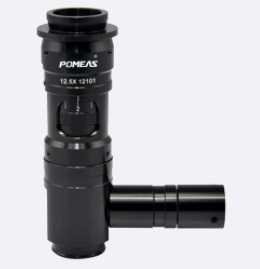 Advantage:
● For the station 1, the lens we used is with coaxial vertical illumination structure, Which can make the incident light even illuminate the surface of the product and clearly highlight the characteristics of the surface.
● For the Station 2, we use the fixed zoom lens without coaxial structure, which has excellent optical performance of high resolution and low distortion, to observe the welding state of gold wire from the side.
● With modular design, it can flexibly match different accessories according to different product sizes to meet the use requirement.
● With feature of stability, it can maintain mechanical stability in a vibration environment.
⑶ POMEAS light source
POMEAS point light sources include red coaxial point light sources, green coaxial point light sources, blue coaxial point light sources, and purple coaxial point light sources. In this case, we use white coaxial point light sources. The emitted light is uniform, which can clearly highlight defects and it is convenient for detection and distinction to check whether the tin liquid at the gold wire welding place has overflow or missing . And POMEAS light source also with the feature of light structure and easy to install.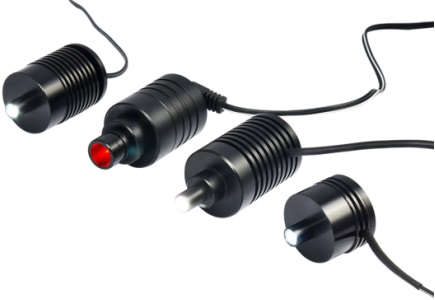 POMEAS has a complete range of ring light sources, so the multiple colors and multiple angles is optional. In this case, we use the ring light source ones with high angle and small inner diameter, which has the feature of High-density LED arrangement, small inner diameter, concentrated beam, high brightness.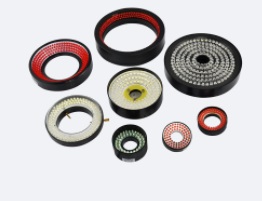 Case Demonstration
——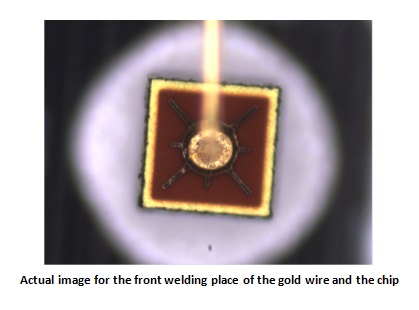 Actual image for the front welding place of the gold wire and the chip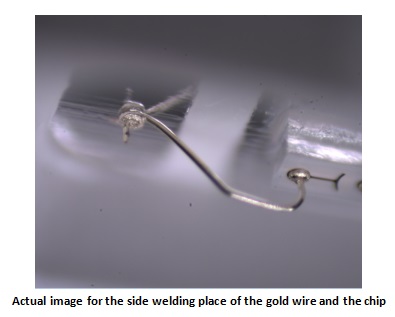 Actual image for the side welding place of the gold wire and the chip
If you want to learn about more cases, please contact POMEAS online customer service, POMEAS will update the case in real time based on your feedback information. Kindly note that POMEAS can provide a complete set of visual solutions and optical products. If you have any questions about this solution, please consult online customer service!