Detection Requirement
——
In the process of making or using drill tools, there may be undesirable defects such as edge break and wear on the cutting edge, which may lead to product surface quality reduction and hole location imprecision. Therefore, it is necessary to strictly control the quality of PCB drill tools and perform accurate flaw detection.
Project Challenge
——
● Because of the wide variety of drill tools shapes and sizes, the traditional visual detection solution can only be used to detect a small part of the drill tools, which has low detection efficiency.
● Less than 1 mm drill tools need high optical magnification to be observed clearly. However, the low depth of field brought by the lens at high magnification, which makes the blade not clear at the same time.
● The detection solution with high cost (line scanning detection scheme) is difficult for general customers to accept.
Solution Case
——
● Use color CCD digital camera
● The lens USES 12.5X high magnification ratio zoom lens with coaxial optical structure to achieve clear imaging of high magnification and high depth of field
● 0.25X, 0.3X, 0.5X, 0.75X, 1.5X and 2X attachment objective are complete with full range, which is optional to be selected to according to the actual requirements of customers;
● Combined with white point light source and multi-angle ring light source, illuminate the cutting edge position and clearly identify defects.
Case Demonstration
——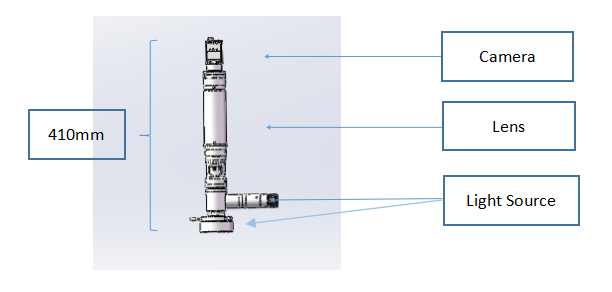 Core components Introduction
——
⑴ POMEAS Color High-definition CCD camera
The new generation of gigabit network camera has lower power consumption and smaller dimension. 1000m bit/s stable transmission speed is compatible with 100 Mbit LAN. It can truly restore images in all scenes and color temperature to keep sharp and clear, as its low power consumption, low noise and high stability.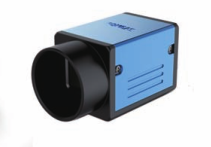 ⑵ POMEAS 12.5X high magnification ratio zoom lens with coaxial optical structure: PMS-Z125D-C(Coaxial)
In order to meet the requirement of size accurate measurement and target rapid positioning, we use POMEAS 12.5x Continuous zoom lens
Advantage:
● 12.5X high magnification ratio can meet the customer's demand for more specifications of tools detection with one set of solution.
● Designed with the coaxial illumination structure, which can make the incident light irradiation more uniform.
● high repeat positioning accuracy
● Nice quality performance guarantees stability, can maintain the mechanical stability in vibration environment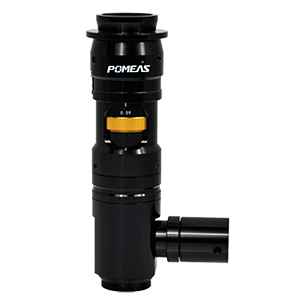 ⑶ POMEAS attachment objective lens
The main function is to zoom in or out of the object being observed, but also to adjust the distance between the lens and the product. Currently, 0.25X, 0.3X, 0.75X, 1.5X and 2X are optional in our product range.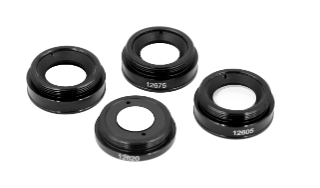 ⑷ POMEAS ring light source (Coaxial, infrared)
POMEAS has a complete variety of ring light sources with multiple colors and angles. In this case, the high -angle ring light sources and medium ring light sources are mostly used, which can clearly illuminate the position. Then the defects such as edge breakage will form an obvious contrast with the background, which is convenient for software identification.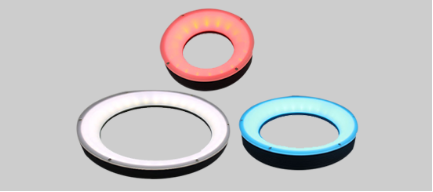 Case Result Showing:
——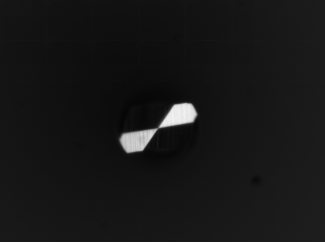 Qualified product actual image

3mm Drilling tools edge breakage actual image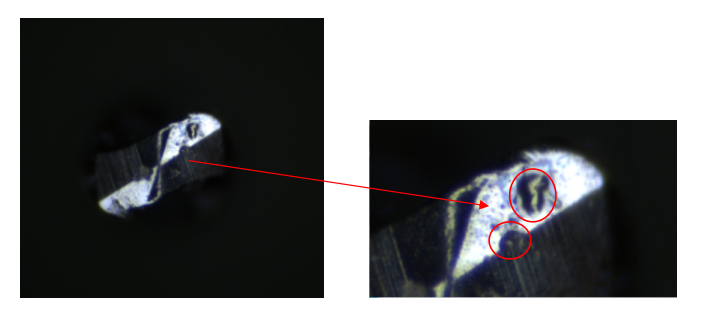 0.1mm Drilling tools wearing actual image