The industrial lens is a component used for imaging in machine vision. Its main function is to image the target on the image sensor. The imaging quality of the industrial lens directly affects the overall performance of the machine vision system. Different applications need to choose different types of industrial lenses. In the machine vision industry, industrial lenses are usually divided into zoom industrial lenses, telecentric industrial lenses, fixed focus industrial lenses, and zoom industrial lenses.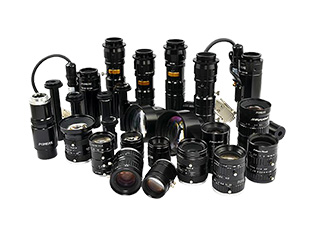 The zoom industrial lens can realize the transformation of the focal length of the lens within a certain range by pushing, pulling or rotating the zoom ring of the lens, so as to obtain different wide and narrow field of view. Ideal for applications that require maximum flexibility but do not require high resolution. Such as: clothing label character detection, compressor iron core inner wall detection, inner hole dirty detection, etc.
When focusing with a zoom lens, it is best to consider focusing on the maximum position of the image first, that is, using the longest focal length of the lens to focus. Then, reduce the focal length to the desired focal length when shooting. During this process, the image remains sharp at all focal lengths. Using this technique, it is easier to see if the image details are clear because it is focused on the largest possible image, so it is also the most accurate focusing method. Note that some zoom lenses require turning two separate control rings, one for focus and the other for focus. The advantage of this structural arrangement is that once the focus is achieved, the focus will not be accidentally changed by adjusting the focus.
With the continuous advancement of optical design and processing technology, as well as the increasing detection needs in machine vision, industrial zoom lenses are developing towards large zoom ratios and high definition. In machine vision, one lens can be used to replace multiple lenses, which is conducive to simplifying the system mechanism. Therefore, the application of zoom lenses in future machine vision will become more and more extensive.