In industrial production, precision parts are widely used in various links, and the quality of the parts will directly affect the performance of the product. Therefore, it is necessary to do a good job in quality control during the manufacturing process of parts, including appearance defect identification and dimensional measurement.
To measure the size of precision parts, using the IMAGE3 series image measuring instrument, one-key measurement of all plane dimensions in the field of view can be achieved to meet the needs of high-efficiency production.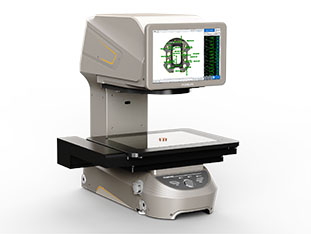 In addition to image measuring instruments, the size measuring equipment on the market also includes two-dimensional image measuring instruments, measuring projectors, vernier measuring tools, etc. What are the advantages of image measuring instruments?
The advantages of image measuring instruments in precision part size measurement:
1. High measurement accuracy: The image measuring instrument is equipped with a high-end bi-telecentric optical lens, with low distortion, high depth of field, and high telecentricity. There is no need to worry about the parallax problem of the product, and the product image can be truly restored, with small measurement error and high precision.
2. A lot of measurement data: The image measuring instrument can measure all plane dimensions of the product, including length, width, circle, radian, R angle, distance, diameter, radius, etc.
3. Batch measurement: The image measuring instrument can measure multiple products within the field of view at one time, and can measure hundreds of product sizes in a few seconds, with fast measurement speed and high efficiency.
4. Simple operation, eliminating human error: The operation interface is simple and easy to understand, and you can get started in a few minutes. And the image measuring instrument has one-button overall imaging, anyone can obtain accurate and consistent results when measuring, basically no human error, and high measurement repeatability.
Image measuring instruments are widely used in the dimensional measurement of precision parts such as mobile phones, watches, hardware, auto parts, die cutting, PCB circuit boards, plastic parts, molds, and microelectronics.