Bilateral telecentric lenses are widely used in precision machine vision fields, such as chip size measurement, due to their unique optical path design.
Testing requirements:
Chips are the core products in electronic devices and need to undergo rigorous testing, including surface dimensional measurement.
solution:
Use POMEAS double-sided telecentric lens VP-LDTC016/07-120 + Pumis vision light source + 10 million pixel industrial camera.
Detection effect: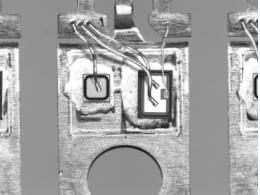 Program core:
POMEAS bilateral telecentric lenses have the same resolution at the center and edge of the field of view, and the distortion is extremely low (0.02%); and the change of object distance does not affect the magnification of the image; with POMEAS visual light source, the edge is sharper, and the center and periphery of the field of view are sharper. The brightness of the lens remains uniform, maximizing the high-resolution characteristics of the lens, and the POMEAS double-sided telecentric lens has a large depth of field, which can avoid visual errors caused by product fluctuations. Ultra-low distortion and ultra-high telecentricity ensure the stability of detection accuracy.