3D video microscope can be used for observation and research in industrial fields such as microelectronics, precision electronics, SMT solder joint detection, and precision hardware. So what are the advantages of a 3D video microscope?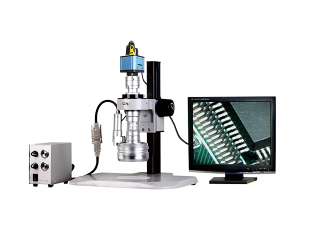 1. The 3D video microscope has a liquid crystal display, and the inspector can directly watch the screen, which can relieve eye fatigue and improve the work efficiency of employees.
2. The multi-image preview function allows even novice users without professional training to quickly get the ideal observation effect;
3. As long as the angle of the body is tilted, the observation angle can be changed. Even if it is loosened, it will not fall over. It is not necessary to fix the sample to a better tilt angle, which avoids the problem of easy deviation of the focus position;
4. Panoramic photography function, just move the stage to get the panoramic image of the sample;
5. The depth of field extension function of the 3D microscope, even if there is a height difference, there will be no focus blur;
6. The low center of gravity and the heavy fuselage design help to eliminate the influence of the external environment;
7. Set the automatic calibration function to remove the deviation, and ordinary users can also complete the calibration setting work in a simple operation.
POMEAS high-depth-of-field 3D video microscope adopts high-quality optical system and has the characteristics of large depth-of-field range, high resolution, low distortion, high-contrast images and bright colors, 360° rotation and multi-directional observation. POMEAS Optics is a comprehensive high-tech enterprise integrating R&D, production, sales and service with industrial lenses, industrial cameras, video microscopes, and industrial inspection systems as the core.