Image size measuring instrument is a fully automatic size detection equipment composed of light source, lens, camera, image processing system and other components. The measurement is accurate and error-free. It can be used in electronics, mobile phones, semiconductors, auto parts, new energy, hardware and other fields Size detection, this article introduces the application of image measuring instrument in the size measurement of lithium battery cover plate.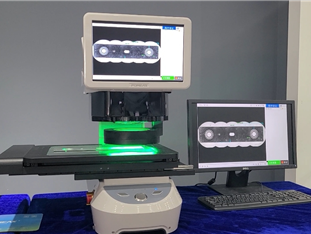 Testing requirements:
Measure the length, width, aperture, hole spacing and other dimensions of the lithium battery cover.
Detection scheme:
Using POMEAS IMAGE3 image size measuring instrument, one-key flash measurement, quickly complete the multi-dimensional measurement of lithium battery cover.
Detection effect: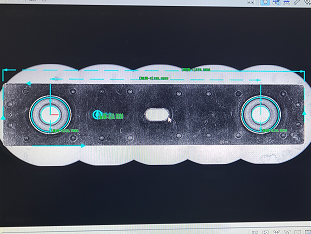 Program advantages:
1. The image measuring instrument has high detection accuracy, repeatability of wide field of view mode ±2μm, high precision mode ±1.5μm.
2. After the programming is completed, automatic measurement, automatic adjustment of the light source, automatic identification of the measurement position, and multiple feature measurement of the lithium battery cover can be completed at one time, with high measurement efficiency.
3. The operation interface is simple and easy to understand, the training time is short, and anyone can obtain accurate and consistent results when measuring.
4. Equipped with POMEAS self-developed double-telecentric lens with large depth of field, the size within the depth of field can be clearly measured. In addition, it is equipped with an autofocus function to measure the different positions of the product without affecting the results, making the measurement results more accurate.