Product Introduction
——
Considering machine vision and measurement characters, POMEAS develop camera specially for POMEAS lens, to maximum the performance. The products include gigabit camera, HDMI camera, VGA camera, F-mount lens.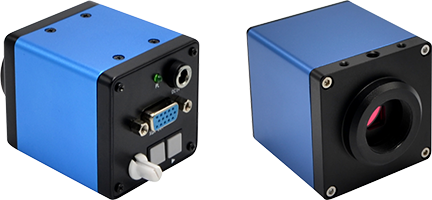 This VGA Industry Camera, colorful output, Mega pixels, 1280x720, support sensor 1/3", C-mount.
Products Advantage
——
1、 Mega pixels, 1280x1024
2、 Progressive scanning, ensure sharp image without twinkle
3、 SD card storage function
4、 8:8:8 RBG full color output
5、 Connect directly with display, vivid color
6、 inbuilt function menu, user friendly
7、 Stable 30fps output, no real-time delay
8、 Vivid color
Application Fields
——
Suitable for machine vision, industry inspection,micro imaging, visual positioning, dimension measurement, etc..
VGA Camera Parameter
——