The cutting tool is a tool used for cutting in mechanical manufacturing. The size of the cutting tool can directly affect the shape of the workpiece and is an important condition for judging the dimensional accuracy and surface quality of the workpiece. Therefore, strict quality inspection is required.
Testing requirements:
Measure the angle, aperture, radian, blade thickness and other dimensions of the cutting tool, and automatically determine whether the product size meets the tolerance requirements.
Detection scheme:
Using the POMEAS MAX version of the image measuring instrument, equipped with a point spectrum, not only can measure the plane dimensions such as angle, radian, aperture, etc., but also can measure the height, step difference, etc. at the same time, one device realizes multiple functions, making cutting tool size measurement simpler and more efficient!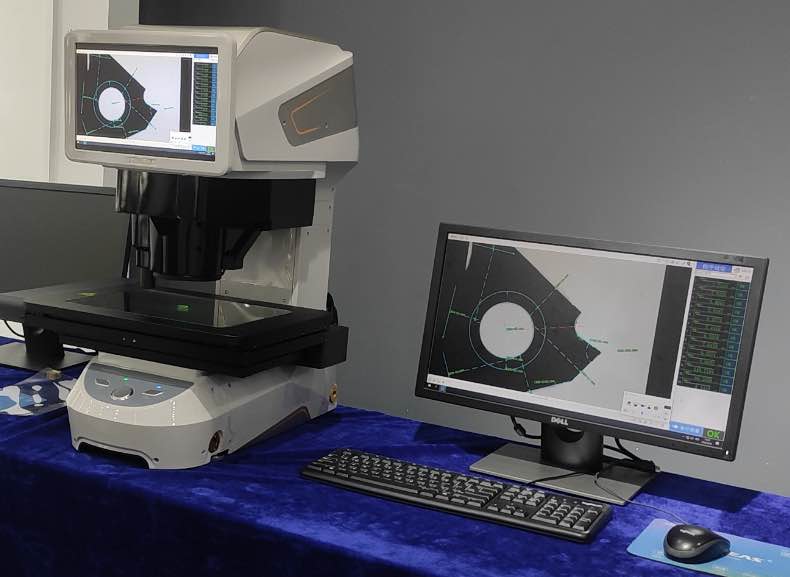 Program advantages:
1. The MAX version of the image measuring instrument uses the principle of mechanical and optical measurement, and is equipped with a point spectrum, which can realize tool detection and high measurement accuracy;
2. The image measuring instrument has automatic focus and automatic positioning, the product position and direction can be placed arbitrarily, and the equipment can be automatically recognized;
3. The image measuring instrument is simple and convenient to operate. After programming, the tool is placed on the operating table, and the measurement can be started with one key. The measurement is completed in a few seconds, and the measurement speed is fast.
The image measuring instrument has the advantages of high measurement accuracy, fast speed, simple and convenient operation, etc., and is widely used in size control and control in the fields of mobile phones, hardware, auto parts, semiconductors, die-cut parts, and injection molding parts.