Industrial intelligent manufacturing is the future direction of development, intelligent manufacturing should contain intelligent manufacturing technology and intelligent inspection system, intelligent inspection system can carry out automatic analysis and judgment, in modern automated production, is widely used in the field of product appearance detection inspection and size measurement.
The appearance of intelligent inspection systems greatly facilitates industrial production, with the advantage of non-contact measurement, which can avoid damage to the measured object.And it is characterized by high-precision detection, which greatly improves the accuracy of industrial on-line measurement, production efficiency and quality control.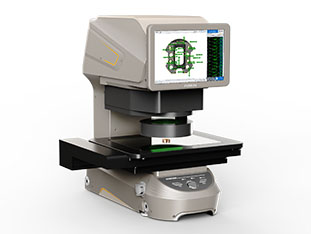 POMEAS image measurement equipment is an intelligent inspection equipment that can be used for industrial dimensional inspection.Using machine vision hardware to convert the product under test into image signals, which are transmitted to the self-developed image processing system.Acquire target features based on pixel distribution and information such as brightness and color, and use traceability, upsizing calibration, intelligent edge enhancement and autofocus to quickly determine product outline dimensions, which can meet micron-level measurement requirements.In the digitalization and automation industry, where the standard of fineness and precision in industrial product production is becoming higher and higher, image measurement equipment is a very efficient inspection method in industrial product inspection.
What are the application functional advantages of image measurement equipment:
1. Can automatically focus, automatically locate the appearance of the target product dimensional characteristics, input tolerance data.If the inspection data is out of the tolerance range, it displays "NG", and within the tolerance range, it displays "OK", which automatically determines whether the product size is qualified or not.
2. Image measurement equipment can quickly measure basic dimensions such as length, width, hole diameter, hole distance, arc, etc..There are also versions of the equipment equipped with spectral sensors that can measure segment differences, flatness, height, etc.,.Meet different customer testing needs.
3. Image measuring equipment can be adjusted to the applicable field of view according to different products, rapid and batch completion of size inspection.
4. Image measurement equipment equipped with high-precision double telecentric lens, imaging low distortion, no need to worry about parallax problems, true reproduction of the image, high detection accuracy.
Intelligent inspection system, in industrial production, product inspection with cost reduction and efficiency and other advantages, with the development of image measurement equipment, its application will become more and more widespread.