Hardware application is very wide, almost in all walks of life can be seen, in industrial production is an essential accessory!With the rapid development of industrial production and continuous innovation, the market demand for the quality of hardware products is also higher and higher.Dimensional accuracy as an important part of quality control, how to quickly measure the dimensions of hardware has become a problem for companies to consider.
Detection Requirements:
Measurement of hardware hole diameter, hole distance and other dimensions, and realize multiple hardware size measurement at the same time, improve the inspection efficiency.
Detection Program:
With the POMEAS IMAGE3 series of one-button flash testers, the measuring range is large, multiple products can be placed at the same time, a full range of image data acquisition of multiple workpieces, one-button to complete the size of the high-precision inspection.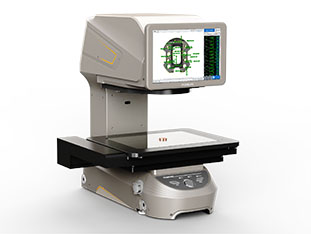 Programmatic Advantage:
1. Simple operation, one-button flash measurement, fast measurement speed, which is conducive to cost reduction and efficiency;
2. Equipped with a large depth of field double telecentric industrial lens, effectively emphasize the characteristics of the product, the measurement advantage is obvious;
3. With auto-focus function, automatic identification of measuring parts, eliminating the interference of human measurement operation, and obtaining uniform and stable measurement results every time;
4. Has a point, line, circle, circle to circle, line to line, arc, peak circle and other feature extraction tools, can measure a variety of size parameters;
5. Tolerance evaluation data are automatically generated at the end of measurement, and statistical analysis and inspection data reports are generated with one click.