With the development of technology, more and more young people like to buy electronic products, especially smartwatches, cost-effective, simple design, more common in daily life.The cover of the smartwatch protects the internal components and is an important part in the composition structure, which needs to be well tested with precise dimensions during the production process.
Detection Requirements
Measure the dimensions of the outer length and width of the watch cover and the diameter of the inner hole.
Detection Program
With the POMEAS IMAGE3 Image dimension measurement instrument, one-button flash measurement, the full-size measurement of the watch cover is completed in about 5 seconds.
Detection Effect Diagram: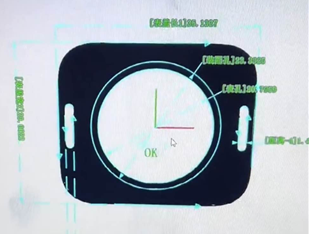 Programmatic Advantage:
1. Measurement time is short, one button start after programming, measurement can be completed in about 5s.
2. Measurement data is highly accurate and does not need to be repeatedly verified.
3. Large measuring range, one time can complete multiple workpiece size measurement, effectively improve the measurement efficiency.
4. The equipment is equipped with marble machine, stable and reliable operation performance.
5. Simple structure of the image measuring instrument, easy to understand the operation process.