Shaft parts are basic components in industrial manufacturing, which can directly affect the stability of the machine structure and equipment operation. Shaft diameter is an important part of the shaft parts, which needs to be strictly tested for its size to ensure that the machine performance is not affected.
Measurement Requirements:
Quickly and accurately complete the measurement of shaft diameter to meet the needs of efficient production.
The traditional measurement method is to manually use gauges, calipers and other tools for inspection, this method can complete the measurement of shaft diameter, but the inspection time is long, low efficiency, can not be widely used in mass production.
Solution:
POMEAS IMAGE3 Image Dimension Measuring Instrument adopts non-contact optical image measuring technology, which can detect the shaft diameter size with high precision. Setting up the measuring program, the measurement can be started automatically, and the result will be out in a few seconds, and the measuring range is large, which can complete the measurement of several workpieces at a time, and improve the measuring efficiency.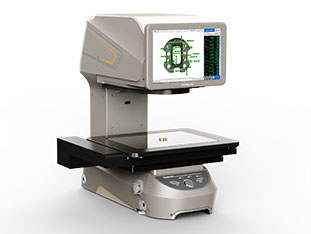 Input the tolerance, the system can directly display the measurement results, qualified display "OK", unqualified display "NG", the data is clear and intuitive, the measurement results support a variety of formats for output, easy to carry out statistical analysis.IMAGE3 Image Dimension Measuring Instrument can effectively Improve the inspection level of shaft diameter size.