Product Introduction
Video microscope, no need to use eyepiece, can inspect items on the screen. The new microscope is with beautifull all in one mechnical design shape, self-developed high performance optical system. The main functions includes continue zooming, automatic focusing, dimension measurement, switchable illumination, etc. It can also save high quality color static image, dynamic video via USB port.
Real time focusing in the inspection position, no need manual focusing
Faster work speed: No eyepiece required; Automatic focusing; Continues zooming.

High Resolution, 1080P, 60 FPS
Capture more detail: HDR enhanced, image more distinct; Electronic magnification up to 180X; 2MP camera, 60FPS image capture.

More convenient: Double USB interface, can save static image/dynamic video; Simple and easy human-computer operation software, with measurement function; Provide multiple lightings.


(1)USB Port (2) Menu
Product Advantage

1.Auto focusing on the inspected parts, no need to focus manually;
2. Continous zoom lens, optical magnification 0.35x-2.25x;
3. Special light path for high resolution inspextion, stable structure;
4. High resolution 1080P, 60 fps high speed;
5. Double USB interface, can save static image/dynamic video
6. Optional light, such as ring light, coaxial light and backlight.
Application
It mainly used to inspect mobile cover screw's defect (crack or damage) and debris jam. As there are height differences on the screws, if use traditional microscope, workers need to adjust working distance continuously. With auto focus microscope, a lot of adjustment time is saved, because of the quick focusing function.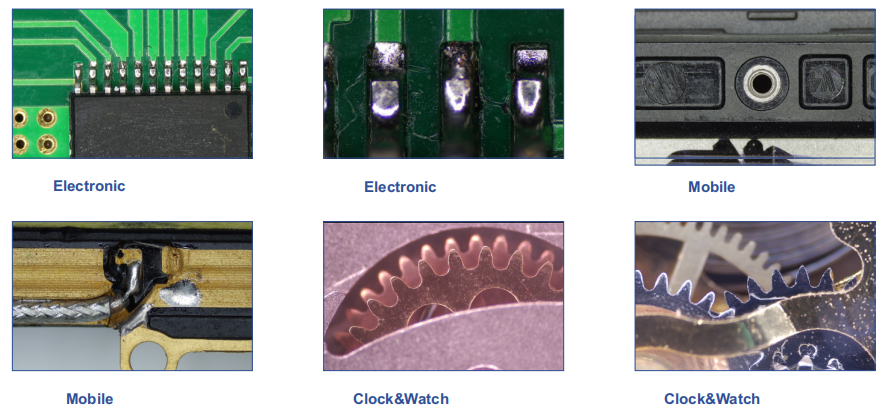 Application Fields
Widely used in electronic, phone, hardware, car, clocks and mechanical, etc.

Auto Focus Microscope Parameter